Overview
The Add/Review Dependents button is used to view current dependents and add additional dependents.
Step-By-Step Instructions
Review the Dependent Summary information displayed.
Click the Add a dependent link to add a dependent to the Dependent Summary page.
Click Return to Event Selection to return to the Benefits Enrollment page.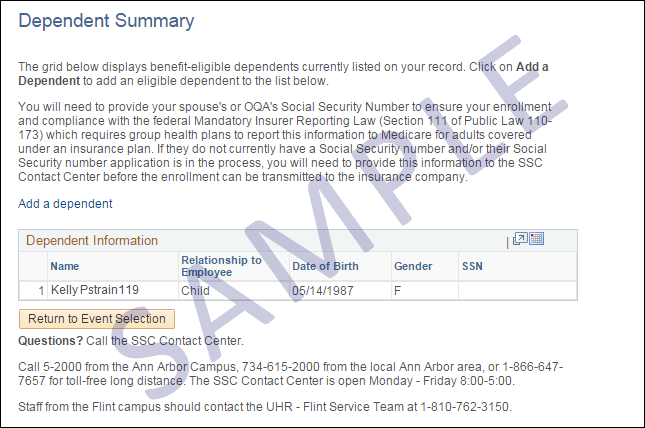 To Add Dependents
Enter the First Name, Middle Name, and Last Name of the dependent.
Select the dependent's Gender from the drop-down list.
Enter the dependent's date of birth (MM/DD/YYYY) in the Birthdate field.
Select the dependent's relationship to the employee in the Relationship to Employee drop-down list.
Enter the dependent's Social Security Number in the SSN field. If Social Security Number is not available, enter Visa number.
Note: This is a required field for adding a Spouse or OQA (Other Qualified Adult).
Click Save.
Other Actions
Click on an employee's name to view more detailed Personal and Job Data on the Employee Summary Page.
Employees who have direct reports of their own have a View link in the Direct Reports column. Click that link to drill down to the My Employees page that lists information for the direct reports.
Related Topics
Contact Information
Questions? Contact the Shared Services Center.
Call 5-2000 from the Ann Arbor Campus, 734-615-2000 from the local Ann Arbor area, or 1-866-647-7657 for toll-free long distance.
Monday - Friday 8:00 AM - 5:00 PM.
Staff from the Flint campus should contact the UHR - Flint Service Team at 1-810-762-3150.