Overview
The Benefits Enrollment - Confirmation Statement page is your confirmation that benefit elections have been submitted for processing.
Step-By-Step Instructions
The Confirmation Statement page will appear after Submit is clicked on the Submit Benefit Choices page. If you submit your elections more than once, a new confirmation number is generated each time and recorded for reference purposes. The last submission will be used for your final elections.
Review each section.

Benefit Election Summary
Each benefit in the enrollment event is listed with the plan, coverage, and cost. Review this list for accuracy. (Note: Benefits not included in this event will not be listed).
Dependent Coverage Summary
Each dependent enrolled in a benefit plan for this enrollment event is listed. Review this list for accuracy.
Total Cost Summary
The cost summary includes only the benefits in this enrollment event. The costs listed are the per pay period estimated costs. Costs may change due to personal, family, or job status changes.

Click OK to go back to the Benefits Enrollment page or begin the logout process by clicking Sign Out on the blue bar.

Note: Your elections are not successfully submitted for processing until you receive this page. If you access the enrollment summary after this confirmation page appears you may view your submitted benefit elections.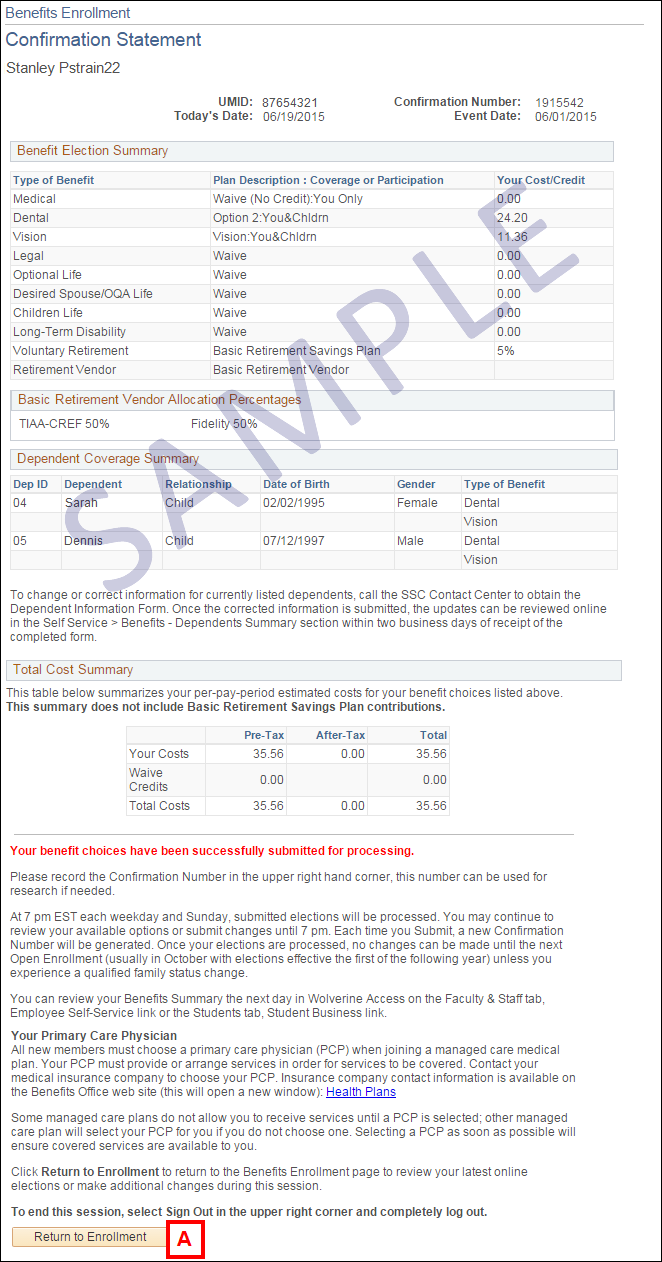 A: Return to Enrollment Click to return to the Benefits Enrollment page.
Contact Information
Questions? Contact the Shared Services Center.
Call 5-2000 from the Ann Arbor Campus, 734-615-2000 from the local Ann Arbor area, or 1-866-647-7657 for toll-free long distance.
Monday - Friday 8:00 AM - 5:00 PM.
Staff from the Flint campus should contact the UHR - Flint Service Team at 1-810-762-3150.