Overview
The Benefits Enrollment page is used to view and edit benefit elections for each benefit plan. You can also use this page to submit your elections for processing.
Step-By-Step Instructions
Review your coverage for each benefit plan under the Enrollment Summary heading.
Review the Pre-Tax, After-Tax, and Total cost columns for benefits at the bottom of the page.
Note: The costs shown are only for the benefit plans displayed on the Enrollment Summary.
Click the Benefits Office Web site link to view additional information before you make your elections.
If no changes are needed to benefit plans, click Sign Out on the blue bar at the top of the page or Home to return to the main menu.
To make changes to your benefit plan elections, click Edit next to the benefit plan you want to change. This will take you to the specific benefit plan's election page.
Note: Unless indicated, current coverage or default coverage will continue unless a new option is elected and submitted.
To submit your benefit elections for processing, click Submit.
Click Cancel to return to the Benefits Enrollment page.
Note: Elections are not submitted.
Benefits Enrollment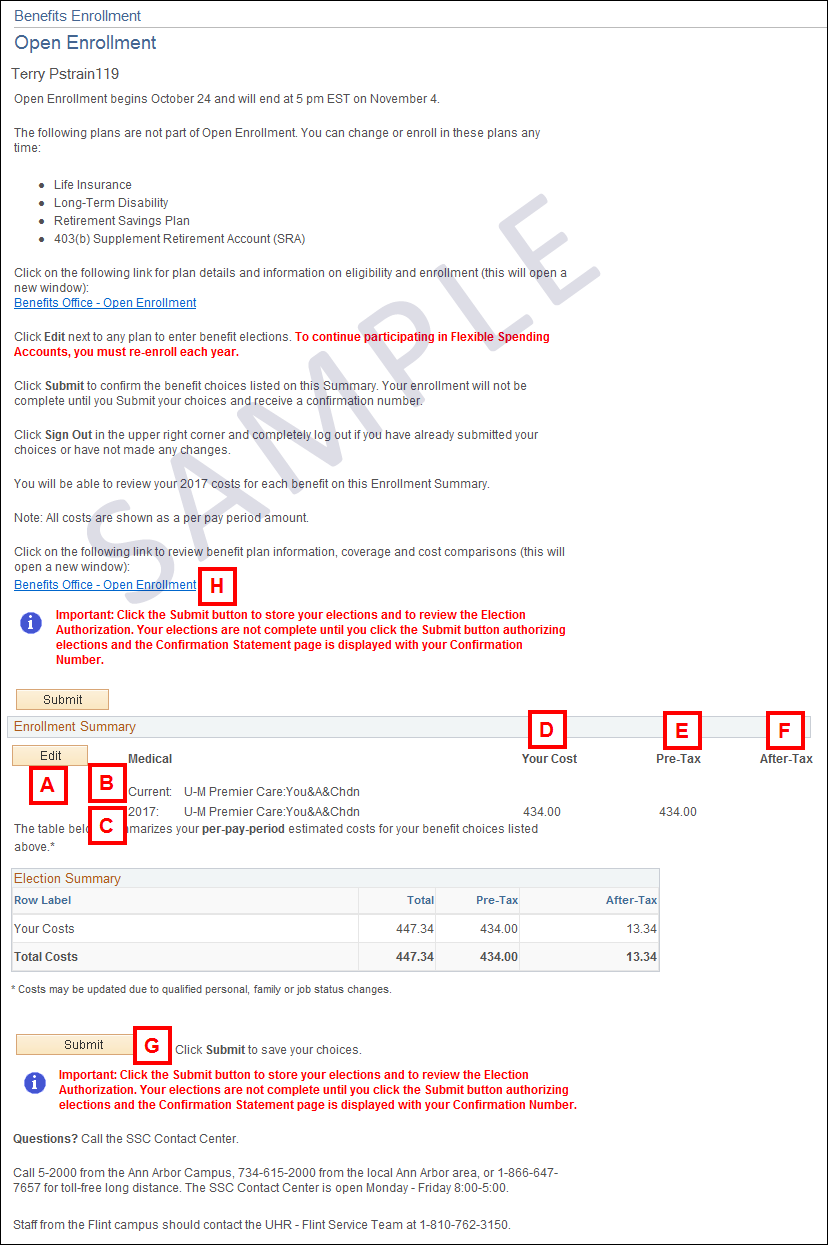 Letter
Field/Button
Description
A
Edit
Click to display options for the benefit plan.
Note: The Edit button is only visible when changes can be made to the plan.
B
Current
Displays the current benefit enrollments and coverage level for each benefit.
C
New or Year
Displays the default coverage or an election that has been made and stored using the Edit button.
Note: The following year is displayed during Open Enrollment.
D
Your Cost
Displays the total cost of the benefit per pay period for the coverage level.
E
Pre-Tax
Displays the employee's cost taken on a pre-tax basis.
F
After-Tax
Displays the employee's cost taken on an after-tax basis.
G
Submit
Click the Submit button to initiate the enrollment submission process.
Note: The system does a final validation of elections made, if errors exist, a message will display and you will be returned to the Benefits Enrollment page.
H
Benefits Office Web site
Click link to go to the Benefits Office Web site.
Related Topics
Contact Information
Questions? Contact the Shared Services Center.
Call 5-2000 from the Ann Arbor Campus, 734-615-2000 from the local Ann Arbor area, or 1-866-647-7657 for toll-free long distance.
Monday - Friday 8:00 AM - 5:00 PM.
Staff from the Flint campus should contact the UHR - Flint Service Team at 1-810-762-3150.