Step-By-Step Instructions
Review the View 457b page.
To view calculations for the next calendar year, click Recalc for Next Year/Current Date button.
To return to the previous year, click the Recalc for Next Year/Current Date button again.
View 457b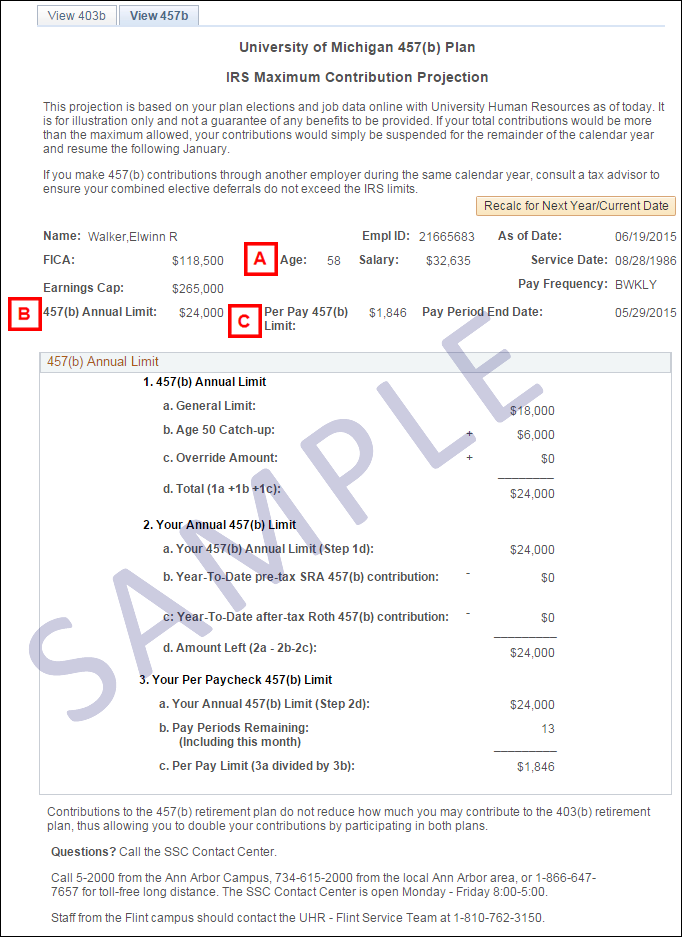 Personal Information
| Letter | Field/Button | Description |
| --- | --- | --- |
| A | Age | Determine eligibility for the Age 50 catch-up (line 1b), you qualify for a high limit if you will be age 50 or older by the end of the calendar year. |
| B | 457(b) Annual Limit | Displays the annual limit on employee 457(b) elective deferrals. This is established by the IRS. The amount (also shown on line 2a) applies to everyone and does not include the Age-50 catch-up. |
457(b) Annual Limit
| | | |
| --- | --- | --- |
| C | Per Pay Limit | Displays the amount that, if contributed in each remaining pay period, would get you to the annual limit in December provided you meet the enrollment deadlines. 457(b) elections are always effective no earlier than the first day of the month following the date the request is received. Your per pay period contribution is not actually subject to a limit; you may choose to contribute more for a variety of reasons. For example, if you plan to work less than 12 months, you will need to make a larger contribution if you want to reach your annual limit. |
For additional information and sample calculations:
www.benefits.umich.edu/plans/retire/index.html
Related Topics
Contact Information
Questions? Contact the Shared Services Center.
Call 5-2000 from the Ann Arbor Campus, 734-615-2000 from the local Ann Arbor area, or 1-866-647-7657 for toll-free long distance.
Monday - Friday 8:00 AM - 5:00 PM.
Staff from the Flint campus should contact the UHR - Flint Service Team at 1-810-762-3150.