Job Information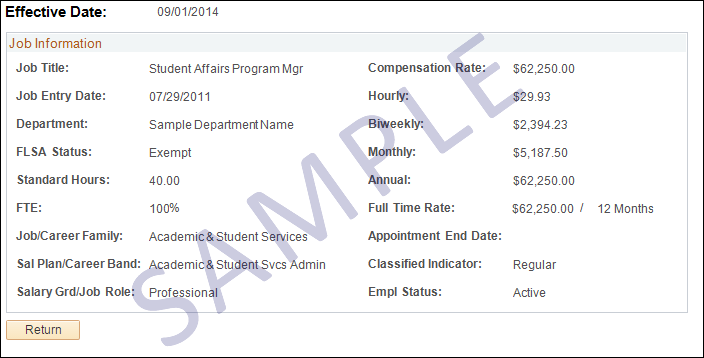 A: Job Information
This section contains information as of the effective date selected for an appointment in the Appointment Information box on the View Appointment Information page.
FLSA (Fair Labor Standards Act) identifies your exemption status according to the Fair Labor Standards Act (FLSA). FLSA regulations govern each position's eligibility for overtime payment. A status of Non-Exempt (NE) indicates eligibility for overtime payment at time-and-a-half, and that the employee has a bi-weekly pay frequency. A status of Exempt indicates that the employee is paid monthly.
FTE (Full Time Equivalency) is the percentage of time you spend in that appointment.
Compensation figures are broken down based on a full year's compensation.
Full Time Rate is the amount you are paid if you work 40 hours per week and how often. Appointment End Date displays if your appointment with the University of Michigan has an end date.
Related Topics
Contact Information
Questions? Contact the Shared Services Center.
Call 5-2000 from the Ann Arbor Campus, 734-615-2000 from the local Ann Arbor area, or 1-866-647-7657 for toll-free long distance.
Monday - Friday 8:00 AM - 5:00 PM.
Staff from the Flint campus should contact the UHR - Flint Service Team at 1-810-762-3150.