Employee Summary Page
The Employee Summary page of the Manager Desktop displays an employee's personal and appointment information.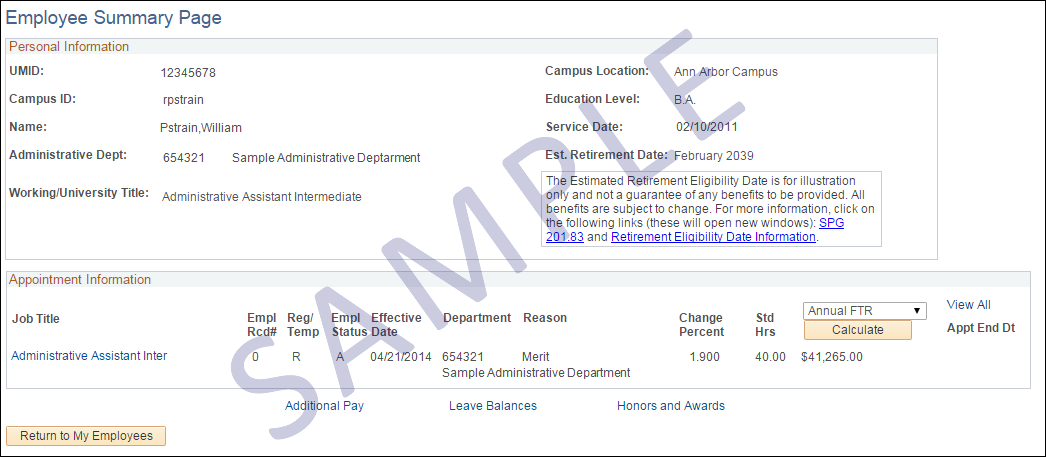 Personal Information
This section contains information about the employee that is not specific to a particular appointment.
The Campus ID is also known as the Uniqname.
Education Level indicates the highest and second-highest degrees that the employee has received.
Administrative Dept is the department that has responsibility for the terms and conditions of the employee's employment and for processing administrative paperwork.
Working/University Title is the employee's working or official employee title. Each employee has one University Title even if he or she has multiple appointments.
Est. Retirement Date is the projected date an employee is eligible to retire from the University of Michigan.
Appointment Information
This section contains information specific to the appointment.
Change Percent displays the amount of change in a salary that occurred.
The Reason column indicates the most recent change to the employee's appointment (e.g., New Hire, Contract, Pay Rate Change, Return From Term(S) Break).
By default, the section displays the employee's calculated Annual Full Time Rate (FTR). Annual FTR is the amount the employee is paid if he or she has a full time appointment (40 standard hours/100% effort).You can also view pay information by:

Annual Rate - The actual amount that the employee is annually paid. For full time employees, this value will be the same as the Annual FTR.
Comp Rate / Frequency - The amount that the employee is paid and how often (M for Monthly, B for Bi-Weekly)
FTR/Appt Per. - The Full Time Rate that is manually maintained by HR administrators and the appointment period for the Empl Rcd.
To change the value displayed, select the appropriate from the drop-down list, then click the Calculate button.
The Appointment Information group box displays all events (sequence numbers) that occur on the current effective dated row in Job Data. Click View All to display historical job data rows that include all events for a given effective date.
Other Actions
You can also do the following from this page:
To view information about the employee's Job Code, click on his or her Job Title.
If the employee has additional pay records (e.g., salary supplements), click the Additional Pay link to view them.
For positions that receive sick time, vacation time, or Paid Time Off (PTO), click the Leave Balances link to view available leave time.
If the employee has honors/awards, click Honors and Awards to view the date received, amount, and requestor.
If the employee has other appointments, click the Other Appointments link to view them.
Related Topics
Contact Information
Questions? For assistance or questions, contact the ITS Service Center:
734-764-HELP (764-4357)